Three Canadian Gateway casinos have been snapped up by Mesirow Financial in a deal valued at CA$500m (€313m).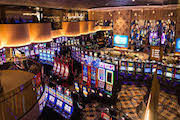 The sale-leaseback deal involves three properties in the Vancouver area, the Grand Villa Casino Burnaby, Starlight Casino New Westminster and Cascades Casino Langley.
Mesirow's investment arm is now the landlord of the three casinos and some of Gateway's subsidiaries are now in long-term leases for the properties and will operate them under those leases.
"This traditional real estate transaction unlocks significant value and generates cash which the company will use to reduce debt, invest in Gateway's growth, support new developments and job creation and deliver value to our stakeholders," said Gabriel de Alba, Gateway's executive chairman.
Gateway is the largest gaming company in Canada, operating in British Columbia, Edmonton and Ontario. It has 6,000 employees and runs 35 properties with 282 tables, nearly 10,000 slots, 68 restaurants and bars and 272 hotel rooms.