Electronic table game manufacturer Interblock has provided Latin America's first Pulse Arena at Sun Monticello Casino in Chile.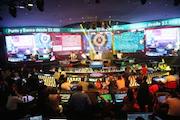 The interactive, social stadium gaming environment, which opened in February under the name SisunSun Gaming Bar, incorporates the largest video wall in Chile.
The gaming bar is designed to be an immersive, high-energy environment that enhances the gaming experience by bringing together live hosts, interactive terminals, and custom moods tailored to meet the needs of any player segment. Five live hosts boost the stadium atmosphere, cheering on guests for their wins and providing guidance for inexperienced players.
The space is composed of 40 interconnected play stations, an expansive high-definition video wall, three live tables, one automated generator, and two video generators designed to deliver results for roulette, baccarat and multi-hand blackjack.
Interblock's technology provides patrons with the opportunity to play up to four games at a time from one seat. Other features include community bonuses, social media connections, and a chat module that allows players to instantly communicate with others.