Embed has appointed Saeed Abdillahi (pictured) as sales manager for Europe, the Middle East and Africa.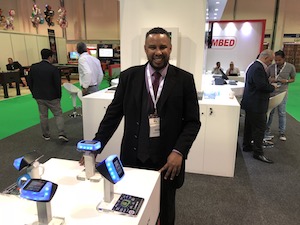 Starting in the role just in time for the DEAL show in Dubai, he previously was a sales manager for audio visual solutions firm, Archimedia in the city. A UK native from London, he has been based in Dubai for five years and is keen to bring his regional knowledge to Embed.
Abdillahi commented: "From what I've seen so far it's a good vibe, in this industry and I'm really happy to be part of it. I'm here to oversee regional sales, service clients and manage existing accounts, so it's a big responsibility, but one I'm really looking forward to getting stuck into."
Meanwhile the company has moved to new offices in Dubai, still in Jumierah Lakes Towers, but doubling the available space. The facility will enable the company to increase the number of sales, installation and support staff it has in the EMEA region.