UK trampoline park operator Flip Out is putting its weight behind a campaign to get young people active.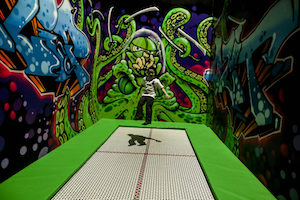 The global mainstream press routinely report any injuries that occur at trampoline parks despite the hard work in the sector to self-regulate and there being no more incidences than many other physical activities, so the positive impact that such venues provide is surely welcome.
The new initiative, which has been backed by Basingstoke branch co-owner Richard Beese, showcases the benefit of trampoline exercises to get more people active while also encouraging young people to come along with free tickets.
He told locval newspaper The Gazette: "More and more children are ending up overweight. The issue is getting out of hand and more needs to be done to encourage these kids to exercise.
"Combined our stores cater for over 2.5 million customers a year and we like to think we are playing a vital role in tackling this national epidemic."
In the bid to help crackdown on childhood obesity, Flip Out has already donated more 40,000 free passes to school children across the UK.