The Saudi Pavilion at the Dubai Expo 2020 will be second in size only to that of the host country, the UAE. It is expected to cover the equivalent of two soccer pitches and will reflect KSA's growing importance in the region's economic culture.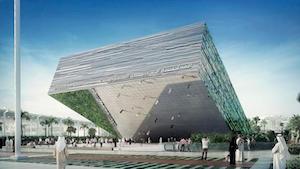 The pavilion will feature the KSA history and its transformation into a modern and progressive society, plus of course its new-found commitment to business expansion and tourism.
The director general of Dubai Expo 2020, Reem Al Hashimy, has gone on record as welcoming the Saudi commitment to the event. "The pavilion will offer visitors a chance to experience the country's rich heritage and culture, while demonstrating how the region is working together the crate a better future for everyone."
The Dubai economy will receive an AED122.6bn (US$33.4bn) boost from the Expo 2020 event, says Ernst & Young. It will also help support over 900,000 job-years between 2012 and 2031.
It is expected to attract more than 20 million visitors from 190 countries when it opens in October next year, running through to April of 2021. Says the Ernst & Young report, it should off 1.5 per cent of the UAE GDP in that period.