Ultrahaptics and Fallen Planet Studios have installed a new experience at ImmotionVR's centre in Cabot Circus, Bristol.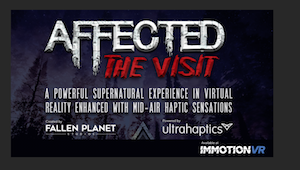 The experience, called Affected: The Visit, demonstrates immersive entertainment by bringing haptic feedback to the horror genre in a specially adapted version of Fallen Planet Studio's VR game Affected: The Manor.
It has been previously shown at trade shows in the US, such as IAAPA and CES, but this will be the first time that the UK public will be able to experience it first hand. It will be available until the end of February 2019.
Tom Carter, CTO and co-founder of Ultrahaptics spoke of the partnership: "Audiences have really loved Affected: The Visit, but we have only been able to share it with the US so far. This collaboration provides an opportunity to showcase UK companies and what they have to offer the growing virtual reality market. We can't wait to share it with our home audience." Arek Antoniak, head of retail operations at ImmotionVR, said: "ImmotionVR sits at the very heart of VR innovation and customer experience. This collaboration with Ultrahaptics and Fallen Planet Studios very much follows our ethos of 'daring to imagine,' and we can't wait to bring this exciting development to the people of Bristol." "We are delighted to be collaborating with Ultrahaptics and ImmotionVR on this exciting new installation," said Alex Moretti, CEO of Fallen Planet Studios.
"Immersion is key to the VR experiences that Fallen Planet Studios creates, by implementing Ultrahaptics' mid-air technology we are able to deepen that level of immersion to new levels, without saddling the user with additional hardware for them to navigate. This combines to create a compelling out-of-home experience that really has to be felt to be believed. To be unveiling this installation in partnership with the ImmotionVR brand, is a testament to the quality of their arcades and highlights the UK's fast growing interest in location-based VR."