The Oman Aquarium opened to visitors for the first time on Monday of this week. Located at the Mall of Muscat the venue has 8,000sq.m of hospitality and exhibits that include over 30,000 marine animals and over 1,000 fish.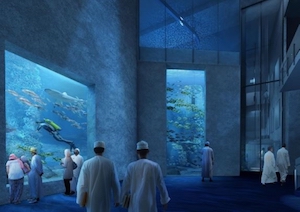 The tour of the location begins with the Omani desert and the creatures that can be found there and then the trip moves under water to see turtles nesting, visit swamps and take in background on the reefs. The accent of the entire project is to secure the biodiversity of the region's natural resources.
The new aquarium is the largest in the region and its exhibits even include penguins and alligators.