Sega has brought a new crane to the Middle East market.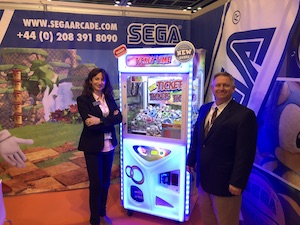 Developed and manufactured by US firm Smart Industries, it was presented at the DEAL show in Dubai on Sega's stand. Jim Dupree, vice president at Smart, explained why Sega is confident enough to distribute the product.
"The Ticket Smart system is what makes the machine special," he said. "It was developed over two years and it's a self contained system that scans RFID tags. While at two years old, it's the first time it's been seen in the Middle East and the reason we have high expectations for it is that we believe it is the best machine ever created for redemption. From a square feet standpoint, no machine has ever reported better revenue. Operators of it in the US have been quoted as saying that it's the best machine of its size they've ever seen in 40 years."
Praise indeed, but Dupree explained the machine's USP: "It's because it provides a high level of player satisfaction. It's not seeing tickets fall into the payout area, it's simply the fact that they win something regularly. If a player deposits a dollar and wins 25 tickets, they don't see that as winning 25 tickets but that they have won a prize. The high volume of winners and satisfaction provided is the key."
He went on to say that because it is not a brand new machine, it has the benefit of having been thoroughly site tested and offers a high degree of reliability. "It can take the punishment of a high level of play and that's another reason why it can return the level of revenue that it does."
Image: Maria Carmen Villarroya, international sales manager, Sega and Jim Dupree, vice president, Smart Industries.