The latest VOX cinema multiplex – its fourth in the Saudi capital Riyadh – was opened on Monday of this week by Majid Al Futtaim Cinemas, at the city's Kingdom Centre. The location includes a new fine-dining concept. The number of VOX locations in KSA is now five.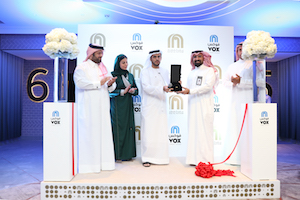 The eight-screen multiplex breaks new ground in content and presentation, with each auditorium designed to provide the ultimate VIP experience for guests. They feature fully-reclining leather seating, individual call buttons for the in-cinema waiter service, immersive surround sound and the very latest projection technologies.
VOX has introduced a unique boutique décor, refined audio-visual displays and fine dining in which the guests can eat in the lounge with a view of the open kitchen, from a menu that includes items such as 24k gold-wrapped steak frites, similarly-presented chocolate fondant, gold dusted salted caramel popcorn and bespoke mocktails made from exotic ingredients.
Mohamed Al Hashemi, Majid Al Futtaim Ventures country manager KSA said: "Since launching our first multiplex in Riyadh Park a year ago, we strongly believed in the future of entertainment in Saudi Arabia. Today, we are brought one step closer to achieving our vision with the launch of one of the most luxurious cinema experiences in the world. The journey has been nothing short of inspiring and is one that we will continue to be a part of as we break new barriers in parallel with the growth of our operation."
Majid Al Futtaim's investment into cinema in Saudi Arabia now exceeds $50m (SAR185m) in under 12 months, with VOX Cinemas set to open 110 screens in the Kingdom by the end of 2019. By the end of 2020, the company expects to operate over 200 screens in Saudi Arabia in six major cities, and with today's launch, it now offers customers a total of 47 screens across Riyadh and Jeddah.
Image: The new venue in Riyadh is declared open.