The US subsidiary of Innovative Technology will represent the company at the upcoming Amusement Expo International, to be held at the Las Vegas Convention Center, March 27-28.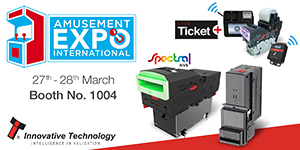 The US office will show its range of bill validators and TITO system at its booth number 1004.
Rebecca White, vice president of sales and business development at the US company said: "This is our fourth year at AEI and we are looking forward to showing visitors our US TITO system – Live Ticket. This low-cost microhub and android desktop TITO redemption terminal. It can scan, print and read barcoded tickets to maximise revenues, eliminate fraudulent tickets and increase machine up-time and total play time. Following some successful installations in Wisconsin, we are looking forward to expanding this out to the wider North American marketplace soon.
"We will also have our popular BV50 bill acceptor on display. This has been designed specifically for the US market to accommodate dollar bills and is well established in the market. With the option of up or down stacking and four cash box capacities, the BV50 is ideal for amusement applications. It is exceptional value with a fast repayment of your initial investment, while easy maintenance and free firmware updates make the unit future proof."