Colorado, US-based Funovation had a busy February.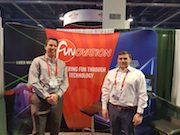 It attended a flurry of Las Vegas events, including Amusement Expo International, the Laser Tag Convention and Foundations Entertainment University.
The company's expo booth focused on the small footprint appeal of its Laser Maze Challenge and RAID attractions that are designed to provide quick throughput and ROI to customers.
As sponsor of the FEU event, Funovation was delighted to see a record number of attendees. "We were able to have one-on-one discussions with people in the industry," said Funovation CEO Ryan Borton.
"Our attractions have widespread appeal for venues from laser tag centres to bowling FECs to museums," he added, "so the high attendance meant that we were able to speak to venues across all categories."
Image: From left, Ryan Borton CEO and Nic Hanzelik sales manager, global at the recent AEI show in Las Vegas