One of the largest indoor water attractions in the UK has commenced a £10m expansion of its facilities.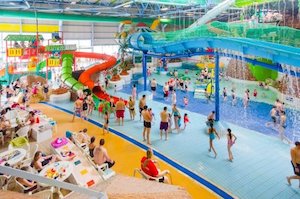 Waterworld in Stoke-on-Trent has seen the erection of steelwork for a three-storey extension and that for a separate tower which will eventually be home to some of the longest water slides in Europe.
The venue is looking to increase its footfall from its current 350,000 visitors a year to over a million since entrepreneur Mo Chaudry bought it from previous owners The Rank Group.
The current works will provide a water-themed mini golf course, four new water rides, spa and fitness area and 1000 new digital lockers. The changing rooms, and reception area is also set to be renewed in the 75,000sq.ft expansion with all works expected to be complete by the end of the year.