Following our previous news concerning the SDLX version of Sega's Daytona Championship USA, the company has now made an official announcement.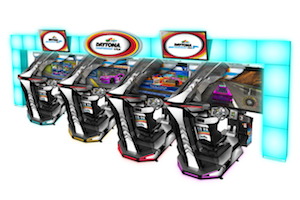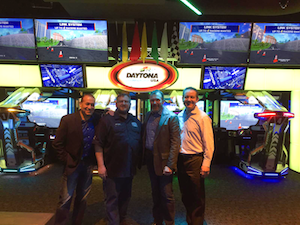 The game is now available in a brand-new Motion Super Deluxe, four-player attraction cabinet. The game made its debut at the opening of the latest Lucky Strike Social in Wrigleyville, Chicago, US last week.
The game features a Pivot Motion Platform that Sega says "pushes immersive racing experience to its limits." The motion system propels players from side to side, creating a unique sense of G-Force and allows players to experience the full force of drifting, crashing and overtaking.
The authentic dashboard features real working dials, buttons and instruments that complement the on-track action and also features a four-speed manual gear shifter. Racing is displayed on 65ins HD LED screens.
The game features a Tournament Mode with customisation options in the game settings making it operator-friendly. An 'Instant Rematch' feature encourages repeat play by getting players back in the race on the same track and car. The fully lit Super Marquee changes colour with the game, while the 'Live TV' inspired spectator video billboards, allows spectators to see players reactions in real time.
This example at Lucky Strike Social has the added features of four extra spectator monitors.
Image: (l-r) Vince Moreno of Sega, Jim Bennington from Lucky Strike Social, Paul Williams of Sega and Hiram Gonzalez from Play It Amusements at the Launch of Lucky Strike Social, Wrigleyville.