Dedicated dad Daniel aspired to buy a house for his family for years but never believed his dream would come true – until now.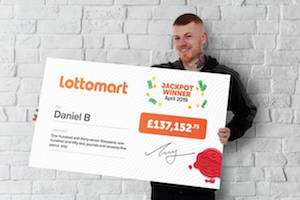 The Stoke-on-Trent, UK, retail worker scooped £137,152.75 after matching all six numbers on the Irish Lotto and is already counting the days until he moves into the no-longer-a-fantasy, four-bed semi with his partner and three-year-old-son next month.
And taking pride of place, when it's parked outside, will be Daniel's stylish, brand new Mercedes-Benz C-Class, after he traded in their old Ford Focus and cleared debts with the winnings.
Daniel struck his fortune on Lottomart, an app which allows players to bet on the outcome of the world's most popular lottery draws in innovative new ways.
It took a little while for the news to sink in: "I was in shock. I didn't believe it, to be honest. I thought, 'This can't be real'.
"I was at home, sat in my living room, watching TV. I ran straight up to my partner and told her – she didn't believe it either," he said. But it soon became a reality when the cash arrived.
"I kept looking at my bank account all the time, looking at how much was in there. I was jumping up and down with joy."
His fortuitous flutter was inspired by his father-in-law winning £200 on a football wager earlier in the day on Saturday, March 30.
Feeling lucky, a quick online search led him directly to Lottomart, where he was attracted by the company's exclusive Boost function, which offers players the unique choice between bigger jackpots or increased chances of winning a jackpot win by multiplying the number of line bets in play and splitting the prize fund into 2, 4, 8, 16 or 32 fractions.
He placed £2 bets on the Great British Jackpot and Irish Lotto and applied a x32 Boost. Instead of having one bet for the £4.4m Irish Lotto total, he had 32 line bets, each playing for £137k, and it was one of the 31 additional, randomly-generated number selections (1-10-14-21-22-39) that struck gold.
"We're absolutely thrilled for Daniel. It's fantastic that this prize money will allow him to secure his family's future," said Ashley Lang, Lottomart CEO.
"This is why we created Boost: to give more people more chances of winning. We all feel great when we create winners like Daniel."