Wazdan's games will be available through InBet Games' white-label platform in the second quarter of 2019.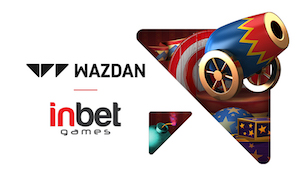 InBet Games is a B2B software solutions provider for the betting and gaming industry with more than 15,000 retail locations, 20,000 terminals, 140,000 PC based systems and 100 on-line installations across 47 countries over the world.
The partnership with Wazdan will see InBet's online casino partners gain three new Wazdan games through its white label platform.
Pavel Korolev, InBet's CEO, said: "InBet is pleased to partner with Wazdan to increase the offering of our White Label platform and bring our customers a world-class gaming experience. Wazdan is known for their high-quality, innovative games and partnering with game producers of such standards is what helps to keep InBet as an award-winning, crowd favourite. We look forward to producing first-class experiences together."
Andrzej Hyla, head of sales at Wazdan, said: "Securing a partnership with InBet is a truly satisfying moment for Wazdan. As an award-winning platform, covering an extensive market and known for offering a technically rich service, InBet is exactly the kind of partner we seek to work with at Wazdan. It is a great opportunity for Wazdan to expand the reach of our games further and increase our brand reputation by working with leaders in the sector."